July 18, 2019
In the face of mixed signals, assessing market health can be a challenge. The economy remains healthy, mortgage rates are outrageously low and yet sales aren't rising. That's in part because we simply haven't built enough homes to keep pace with the demand. Despite attractive mortgage rates, the supply of available homes is so tight that sales are struggling to keep pace. Rising home prices typically incentivize more sellers to list. But with nowhere to go because of the shortage, listing activity is down. New construction has been hampered by rising land, labor and material prices as well as regulation, forcing builders to create new supply in the high-end luxury market often at the expense of more affordable entry-level product. But the demand from millennials (and some baby boomers) is concentrated in the affordable price points, creating multiple-offers and frustrated buyers.
But it's that tight inventory that's still driving prices higher. Sales prices reached a new all-time high of $290,000 in June—likely our high for the year. New listings stumbled 3.1 percent while pending sales were down 2.9 percent. Days on market remained flat compared to June 2018 while the ratio of sold to list price fell for a fifth consecutive month. In some ways, the market is improving for buyers, even though sellers are still enjoying strong pricing power, favorable negotiating leverage and quick market times. For the last nine months, buyers have seen more active listings for sale than the year prior. We still have a tale of two markets: strong demand, weak supply and price growth in the affordable brackets compared to a slight oversupply, slow market times and weaker pricing in the upper brackets.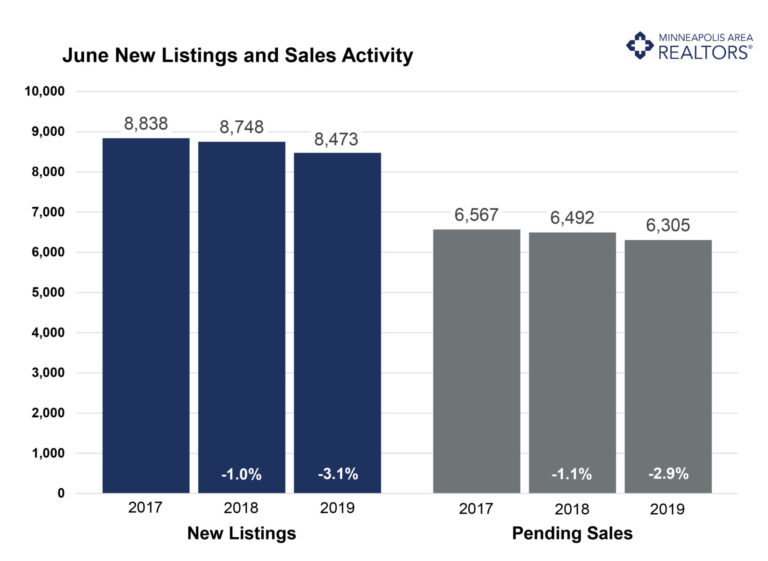 June 2019 by the Numbers (compared to a year ago)
Sellers listed 8,473 properties on the market, a 3.1 percent decrease from last June
Buyers closed on 6,604 homes, an 8.2 percent decline
Inventory levels decreased 1.3 percent from last June to 12,063 units
Months Supply of Inventory was flat at5 months
The Median Sales Price rose 7.2 percent to $290,000, a record high for any month
Cumulative Days on Market remained stable at 40 days, on average (median of 16)
Changes in Sales activity varied by market segment

Single family sales fell 7.5 percent; condo sales fell 13.3 percent; townhome sales decreased 6.1 percent
Traditional sales declined 6.8 percent; foreclosure sales dropped 46.4 percent; short sales fell 48.1 percent
Previously owned sales were down 8.1 percent; new construction sales rose 2.0 percent
Quotables
"The market is quiet right now, not every month shows significant change. Inventory is low, buyer demand is still evident and interest rates are phenomenal," said Todd Urbanski, President of Minneapolis Area REALTORS®. "The untold story is the increase in net worth for homeowners. Rising prices mean rising equity. It can be a challenge to find a home, but homeownership is the best avenue to wealth-building."
"The idea of the 'housing market' as a singular entity can be misleading," said Linda Rogers, President-Elect of Minneapolis Area REALTORS®. "Cities, neighborhoods and different segments can often show tremendous variation."
From The Skinny Blog.